Beyrouth brûle, Beyrouth brille: Beirut burns, and Beirut shines. The city still seems to conjure two very dichotomous and cliché images in the West: either the lamented former glory of the pearl of the Middle East, or the atrocities of 15 years of protracted civil strife. It is always unfair to try and capture a city's essence within stereotypical categorisations, yet is particularly unfair to a city like Beirut, which in fact is many cities, and where beneath the city's skin, things are always on the verge of eruption. Beirut cannot be summed up in a picture perfect postcard reality; its rub between latent violence and the promise of dreams is too uneasy to produce a coherent image, a steady pace. While wandering the streets of Beirut, one is at loss how to simultaneously navigate its quick pulse, and its inertia; its sedimented history and its collective amnesia; its flirtation with hedonistic intoxication, and the hardships of reality. Beirut as a city, a cultural construct, a historic wound seems always to defy and resist. For every narrative there seems to be a counter-narrative; for every interrogation of history, questions seem to accumulate rather than being answered, for every bullet-ridden building reconstructed or torn down there seems to be a spectre haunting it, for every political discussion drawing to a close, there is a new one beginning.
The works selected for this program each express particular sensibilities related to specific historical moments, and hence map the city in different ways. "My Friend Imad and the Taxi" was filmed in 1985, during the civil war and articulates a sense of alienation and estrangement, while walking the streets of a divided city. ", Beirut" was produced in 2003 after the Israelis pulled out of Southern Lebanon, and when Rafiq Hariri was serving his second term as Prime Minster of Lebanon. Yassin's film reads the city through its most forgotten inhabitants: its outcasts and marginals. Nouredinne's "Ca Sera Beau – from Beirut with Love" documents the young director's personal love-hate relationship with a city that he cherishes, but wants to flee, filmed in the backdrop of the 2005 assassination of former Prime Minister Rafiq Hariri, which plunged Lebanon in a period of political instability.
All three films express a deep love for, and attachment to Beirut as a city that is still in the process of defining itself. These films are testimony how – an often warped – but genuine sense of belonging, is accompanied by cynicism. Beirut indeed burns and shines at the same time.
Note: Ticket sales will be donated to the Né à Beyrouth Film Fund; a fund set up after the July war between Israel en Hizbullah, to encourage young Lebanese film makers to produce visual reflections on the recent conflict.
www.neabeyrouth.org

Nat Muller (NL) is an independent curator and critic based in Rotterdam. Nat is primarily interested in viewing social and political processes through a cultural/artistic lens. She has published articles in off- and online media, and has given presentations on the subject of media technology and art (inter)nationally. She has curated video selections for international platforms, such as the Transmediale (Berlin), NBK (Berlin), FIFVC (Beirut), Transito (Amsterdam), Coding:Decoding (Copenhagen). Her main interests include: the intersections of aesthetics, technology and politics; (new) media and art in Middle East. Her latest projects in 2004 include The Trans_European Picnic – The Art and Media of Accession in collaboration with Kuda (Novi Sad) and V2_ (Rotterdam), co-curating the electronic art biennial DEAF_04; the curatorial research project "Xeno_Tech" which researches situated practices of media (art) in the Middle East. Projects in 2005 include the exhibition INFRA_ctures involving sound artists and architects, and Xeno_Sonic: a series of experimental sound performances from the Middle East. She is co-initiator of the Upgrade! Amsterdam, a series of gatherings for and by new media aficionados, artists, geeks, media makers and breakers. She has been appointed co-curator for Re: visie 2007; the exhibition accompanying the Dutch Film Festival. Nat has taught media theory and electronic art at the Willem de Kooning Academy in Rotterdam (NL) and at the Lebanese American University in Beirut (LB).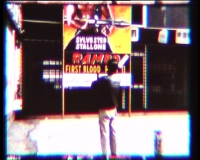 In 1985, Hassan Zbib and Olga Nakkas separately started to develop film scenarios based on simple narratives. Their work took Beirut as a stage where lonely characters drifted: a taxi driver in his car, a man walking around and talking to a Rambo poster. These films were never presented as finalized works until a Beirut-based festival, Né à Beyrouth, spotted them and asked the filmmakers to present their films with live electronic music.

Hassan Zbib. Born in 1960, Kuwait City, studied drama in Beirut and directing in Paris. Since then he has worked as drama teacher, cameraman, producer, director and actor. In 1987 he settled in France. His works include a.o. Maze (1991, short) Chadjarian, the Master of Persian Music (1992), Lebanon Special (1995, short), On the Road to Damascus (1996, short), Saida, Portrait of a Town (1996).
Olga Nakkas. Born in 1953, Olga Nakkas produced several documentaries during the war in Lebanon and later in Paris with her company Les Films de L'Odyssée. In 1994 she directed and produced ''Lebanon Bits and Pieces '' 64' for France 3 and the EU. In 1999 she directed ''Halima'' 50' for la Francophonie. From 2002 to 2004 she was an executive producer at Article Z, a documentary film company, Paris. In 2005 she moved back to Beirut.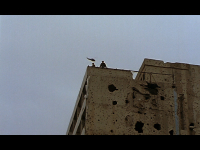 A military helicopter in the sky like an evil wasp. Chaos on the ground after the attack. A fast-paced sequence – bleeding people, burning cars and confused soldiers. Subheading: From Beirut – with Love. A cinematic postcard-greeting, so bitter and cynical, it can only come from a city being at war with itself. Fronts of houses scarred by bullet holes, forgotten mines, armed soldiers, armed civilians – not a conflict anywhere near a solution. Somewhere in between young men, who can only choose between army, religion and drugs. A delirious, unsettling film about anger and violence and fantasies of death. Ca sera beau – it would be beautiful, if blood slapped against the window after a shot through the mouth. This only dialogue in the film brings about a surprising connotation: Beirut is Paris, or Madrid, or any other metropolis. The scenario is set: youth without perspective, bomb attacks, drugs, arms, soldiers. The postcard has arrived.

Wael Nouredinne (LB/FR) was born July 26th in Beirut, Lebanon. In 2002, no longer able to bear the sectarian conflicts that he feels continue to tear apart Lebanon , he exiled himself to Europe. His completed works include Ça sera beau: From Beirut with Love (Super-16, 2005), Homage to Carlos: Rivière souterraine du banditisme (16 mm, 2004), Chez nous à Beyrouth (video, 2002), and L'homme à la camera (video, 2000). He is currently working on one video "Irak Trip " , and two 35mm film projects: Hubal, and Scènes de la vie des miliciens
"A camera is dangerous. When images are made, they are made for eternity. Making images is a responsibility." W.N.
URL: www.wael-noureddine.blog.ca



Yassin was searching for the urban side of Beirut through its marginal characters. During the process of making the video he discovered that Beirut is a suburb of an imaginary city: the street is the image which he loves most, yet also turns out to be a fake, similar to the images we produce and receive continuously: smiling without blinking, like a drug for peaceful sleep. Sweet Dreams!

Raed Yassin was born in Beirut 1979. He studied theatre at the Lebanese University's Institute of Fine Art, from which he graduated in 2003 He lives in Beirut and works in video, performance, and music. He is part of the Association for Free Improvised Music in Lebanon (MILL). Yassin has acted in Wissam Charaf's short film Hizz Ya Wizz and Danielle Arbid's feature film Maarek Hob (In the Battlefields). His videos include Beirut Antenna Sonata and Featuring Hind Rostom.