3:00 am

During 2002, I visited the street market of obsolete objects called El Salado in Santa Marta Acatitla, at the west side of Mexico City.
I prefer to go at 3:00 am, when the flea market begins to be installed. Throughout my visits, I developed a film series to document the phenomena,
so then, I could work with all that material. My behavior was that of an external agent, a simple observer. Getting away from my hunting passion for the
object I put all my attention on the fullnes of the event.
My interest is focused in the analysis of the process and in the flow of the objects in the street market system. In this process, the schedule takes an important part of the
generative phenomena of substantial feedback. The movies were edited at the same moment of the recording, through the camera, using an infrared night vision mode.
The real movement and illumination were possible by the use of a deaf lamp that emulates the dawn buyer. The live action is from the use and manipulation of the original audio source, generated by the constant shaking of the objects when they are unpacked from the bags, the trash cans, and the turn over trucks. Also, from hacked and bend audio systems
aquired from the street markets. The context arises from the phenomena of the process as a conceptual loop. The permanence of the idea that is constant, while the
form is in full transformation. The street market El Salado is set up since years ago in an empty ground and all over the near streets of San Marta Acatitla.
There are metric tons of second hand objects that are constantly exchanged. Although most of them obsolet, they generate a constant flow of buyers and sellers.
3:00 am is part of ANIMA, a project developed thanks to the sponsor of the Rockefeller/ McArthur Foundation.

Arcangel Constantini, www.arc-data.net <http://www.arc-data.net/>, is a multifacetic artist who explores a large amount of media resources to state his ideas and concepts,
in the concret context and also in the digital process.
Within his production and practice, Arcangel explores with visual and audio dynamics. His attention is focus in the conceptual loop.
Arcangel is a collector of technologies that are in use and disuse, which are validated at the moment that they are used in the context of art, giving them a new signification.
an important part of his activities focuses on the implementation functionless to the unused objects, trough basic use of electronic and mechanic, as part of a conceptual recycling process. So his artwork can be read as a construction of electro mechanic low tech systems and the exploration of it in many creative fields.

His work has a Ludic and experimental basis, influenced by fortuitous and chaotic process of the city and the street markets, seeing them as a sociological phenomenon.
Arcangel had been active net-art scene, since 1997. He is member of hell.com. Also, he works as a curator of inmerso @ cyberlounge in Museo Tamayo >meixco city www.museotamayo.org/inmerso <http://www.museotamayo.org/inmerso>.

He was part of the curatorial crew who made possible the Art Festival Electronico Transitio Mx, in Mexico City. Also he is part of the Dorknot council in Mexico City and by now, he is director of the emergent gallery 1/4. His work has been exhibited in festivals and biennales in countries such as, Holland, Argentina, Peru, Korea, Japan, Germany, France, Puerto Rico, Canada, Italy, United Kingdom, Uruguay, Brazil, Australia, Spain and Portugal. He get the Rockefeller/ McArthur grant for new media, and he is member of the Sistema Nacional de Creadores, FONCA, in Mexico.

www.arc-data.net
www.unosunosyunosceros.com
www.bakteria.org
www.atari-noise.com\
www.x-no-01.net
Manrico Montero
(Mexico City, 1973)
Manrico Montero is one of the most important ambience music composers of Mexico City. Since the last ten years he has been involved on many experimental music and sound art projects on Mexico City, founding labels like Igloo Musica, releasing some limited edition cd-packages, and collaborating on New Media collectives like Khora.org, and more recently creating the Mandorla label.

Manrico has played throughout Mexico on the most important festivals of sound art, new media and contemporary art on the country, and he has played internationally at Los Angeles at the Red Cat Gallery and at The Calarts University, at the Boulder Museum of Contemporary Arts on Colorado, at Berlin at the Mexartes Festival, at Quebec, Canada, at the Lascas Festival: Un arte mexicano actual, and at Asuncion, Paraguay at the opening Nuevas tendecias del arte mexicano

Under its own name as Manrico Montero he is totally orientated to field recordings and soundscape composition and he is currently working on a piece about the nocturnal soundscapes of the Mexico City historical downtown, and on a series of recordings dedicated to the Paraguayan crickets and a big sound piece about the sanctuaries of the Mariposa Monarca.

www.myspace.com/manricomontero

KARRAS:
Under its alias of Karras, manrico generates deep organic digi-acosutic soundscapes on a soulful and epic emotional musical search. Karras has released tracks on the most important independent Mexican labels like Filtro, Static Discos, Mil Records, Abolipop Records, Cyan, Soundsister, Discos Konfort, Mandorla, etc, and internationally he has released stuff on the French labels Post-Disco, Eko, Mk2, on the Hungarian netlabel Mahorka, etc.
http://www.myspace.com/karrasmusic
http://www.ekonetlabel.com
http://post.disco.online.fr/index.php?Catalogue
MANDORLA:
Mandorla is a digi-acoustic music label and artists collective founded by Manrico Montero and is based on Mexico City.
www.mandorla.com.mx
www.myspace.com/mandorlanetlabel
LUKE DUBOIS [NY]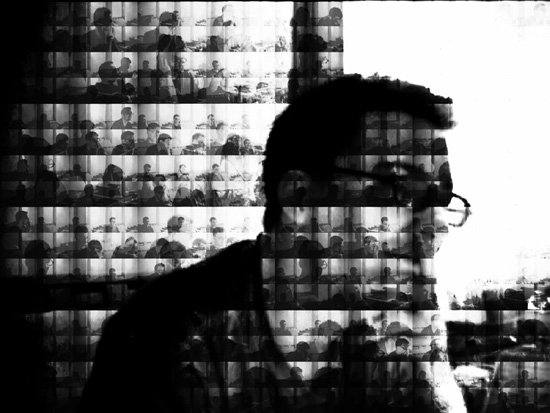 http://www.lukedubois.com/
Luke DuBois is an composer, video artist, programmer, record producer and pedagogue based in New York City.

Luke has collaborated with a wide range of artists and musicians, including Elliott Sharp, Paul D. Miller, Toni Dove, Chris Mann, Michael Joaquin Grey, Eric Singer, and Leroy Jenkins. He is a founding member of the Freight Elevator Quartet, and has produced records for Bang on a Can composer Michael Gordon on the Nonesuch label. His music integrates real-time performer-computer interaction with algorithmic methodologies repurposed from other fields, most notably formal grammars such as L-systems. His current research into issues of musical time revolve around a technique called time-lapse phonography, as used in his piece Billboard.